Siegers Coco Chanel

Chanel is taken out of breeding this year (2016). She have made 5 fine litters and became mother to 21 nice puppies. That's enough :-) At the same time she have reach some very fine show results, as you can see below, both at home and abroad as well. Now she enjoy her retirement together with the rest of the pack, but still she take a round with new puppies.
Chanel have reached her 10 years birthday :-) See the pictures hereunder of her birthday cake and the nice visitors :-))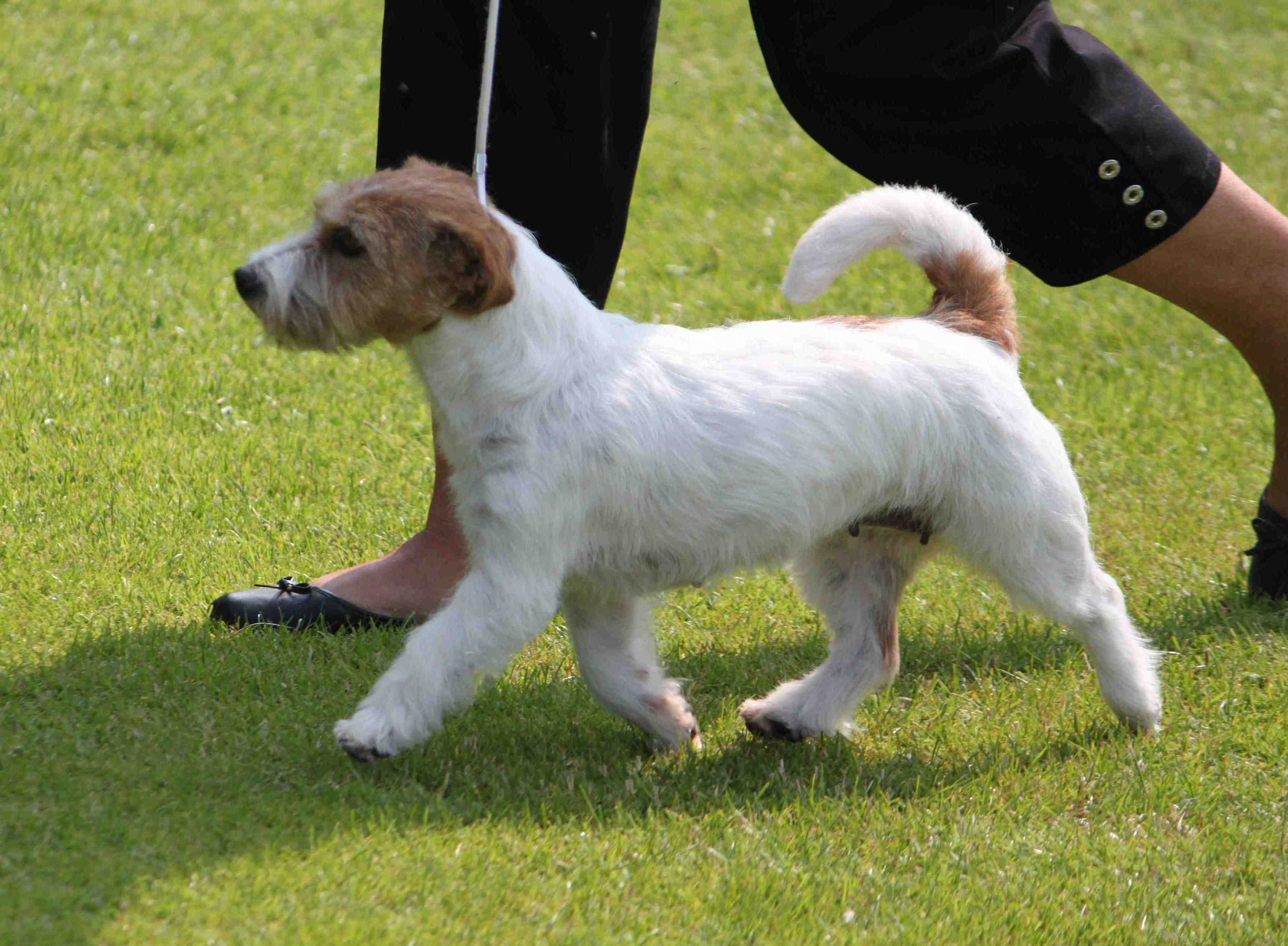 DKCH - KLBCH - INTCH - DEVDHCH - DECH - ROSTOCK SIEGER 2013
Chanel was born the 26. February 2009 and comes from Kennel Siegers.
Chanel became Danish Champion 17. October 2010
Chanel became Club Champion 17. September 2011
Chanel became International Champion (INTCH) 3. August 2013
Chanel became German VDH Champion (DEVDHCH) 3. August 2013
Chanel became German KFT Champion (DECH) 8. September 2013
Chanel became ROSTOCK SIEGER 2013 8. September 2013
And it's a fact that:
* She is very healthy
* Eye inquiry - flawless ECVO certificate issued of a specialist in eye diseases
* She is tested and found free of Patella Luxation (loose kneecaps)
* She is DNA tested and found free of Primary Lens Luxation
* She is 28 cm. high
* She is rough coated
* She got full set of teeth
* She has a correct scissorbite

Status of the show season 2013 for Chanel
The last shows for 2013 are now finished. It has been a very fine show year for Kennel Jackstars. Thank you to all of you we have been together with on the shows for your way of being and and fine friendship outside the ring ! This is one of the primary reasons that we are doing this. See you all next year :-)
We have calculated our overall show results for Chanel for 2013. Please see below:
Status for Chanel's shows in 2012/2013
Chanel has not been showed in Denmark in 2013, only in Germany, because she a long time ago became Danish Champion (DKCH) and Danish Club Champion (KLBCH). The results for Denmark are therefore from 2011 and 2012. She has in 2013 achieved the following titles in Germany:
German VDH CHAMPION (DEVDHCH)
German KFT CHAMPION (DECH)
INTERNATIONAL CHAMPION (INTCH)
ROSTOCK SIEGER 2013
Chanel's results in Germany i 2013:
VDH CAC x 10
KFT CAC x 6
CACIB x 3
BOB x 1
Chanel's results i Austria 2012
CACIB x 1
Chanel's results in Denmark 2011/2012:
EXCELLENT x 25
CK x 23
VG x 2
BIR x 2
BIM x 3
CAC x 3
CACIB x 2

Chanels Father and Mother
DKCH - NOCH
Touchstar Magician

DKCH - KBHV '05 Winterbourne Pure Vanity